Aurel Rubbish was born in 1980, and he lives and works in Besançon. A self-taught artist, the street was his first field of expression and exhibition in the 2000s. Seduced by the quick execution of stencils, he, however, evolved his practice towards paper cutting. A meeting with a collector who acquired one of his stencil templates pushed him to dedicate himself entirely to this technique (paper cutting) in his studio. As a result, he became the first French artist to present his intricately cut works by pasting them in the street as early as 2010.
Aurel Rubbish's work is influenced by certain periods in art history such as symbolism, art nouveau, influences that he combines with the world of tattooing, graffiti, and even religious iconography (cutting). The theme of nature is also very present in his works. He identifies himself as being close to the contemporary pop-surrealism movement or the early days of the street art movement.
In the "Metamorphosis" series, which began in 2013, Aurel Rubbish creates large paper pieces featuring fragments of faces merging with botanical and organic patterns, all framed with highly detailed geometric motifs. The flowing vegetation reminds us of both the Earth's gravitational pull-on matter and the ecological gravity we are witnessing. Recently, the layering of cuts has become his primary technique, blending vegetation, bubbles (graffiti), and drips. Old bearer bonds, which were debt securities often used for tax evasion and are now worthless, are used as cutting paper for their colours and ornamentation, giving these beautiful papers a new sense of value.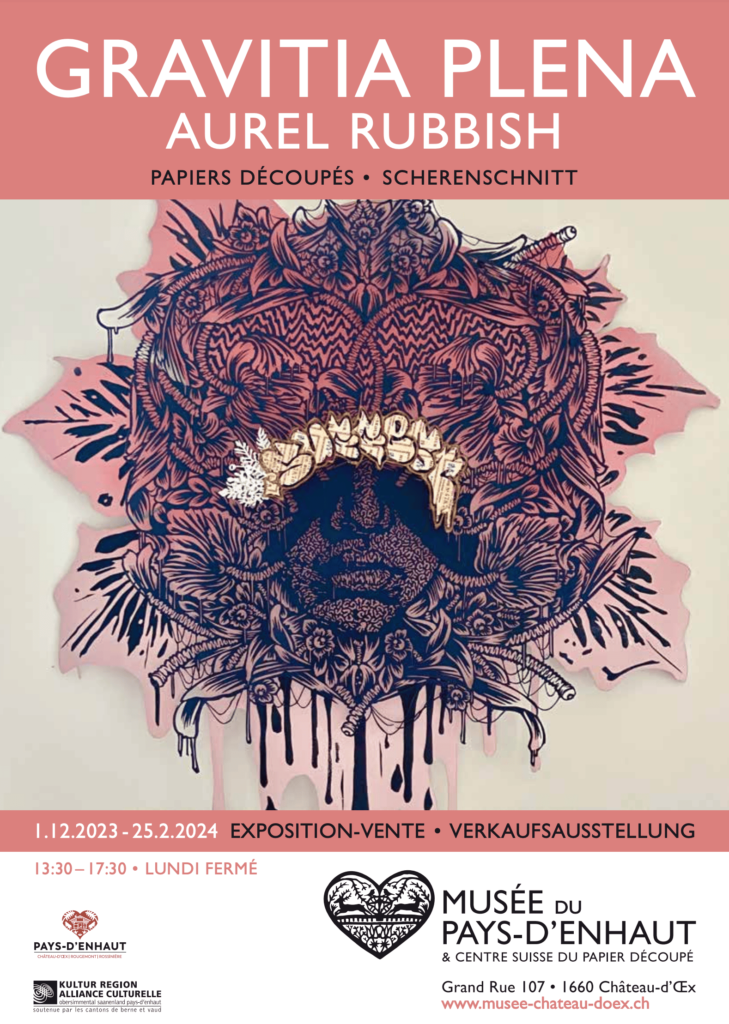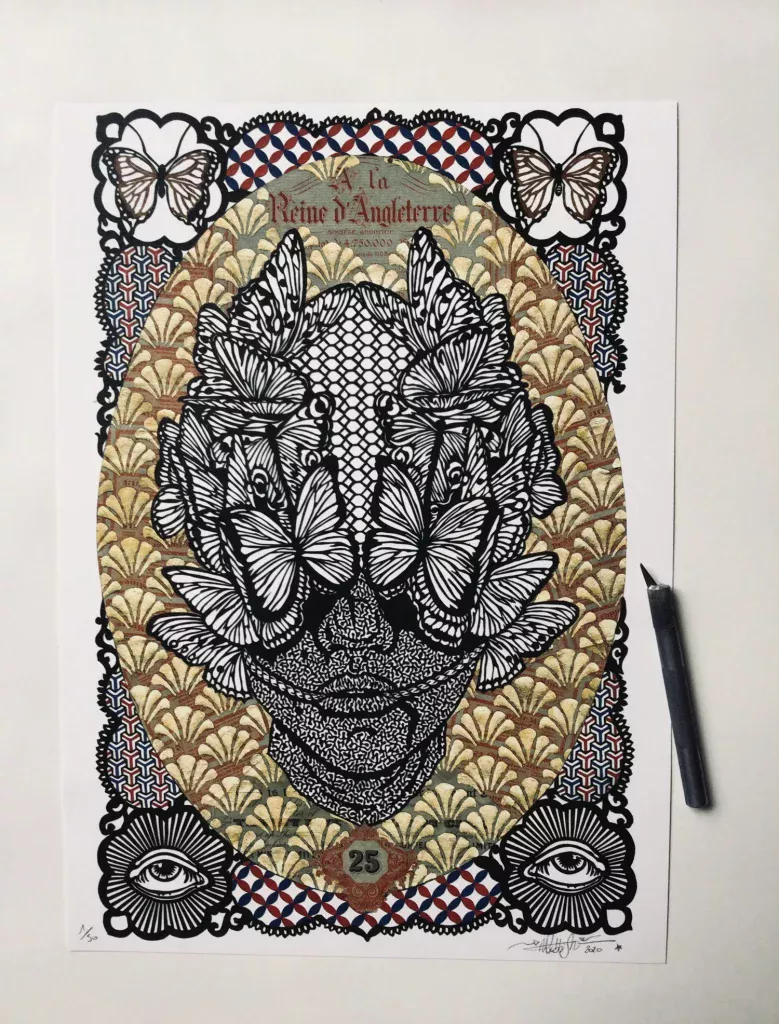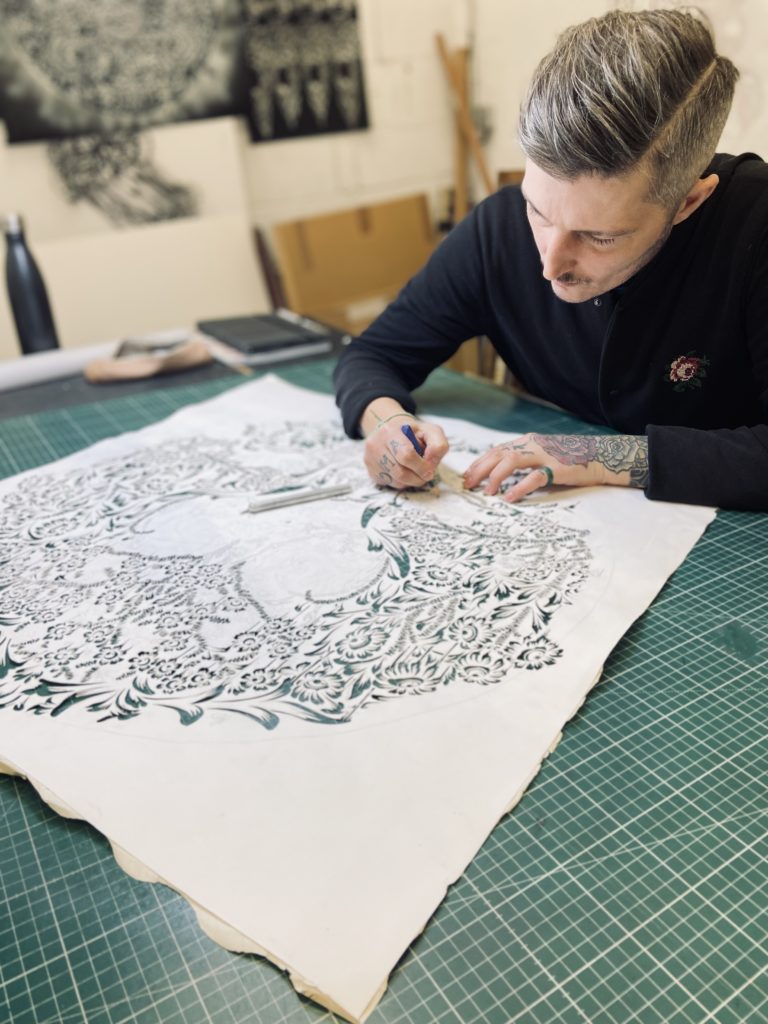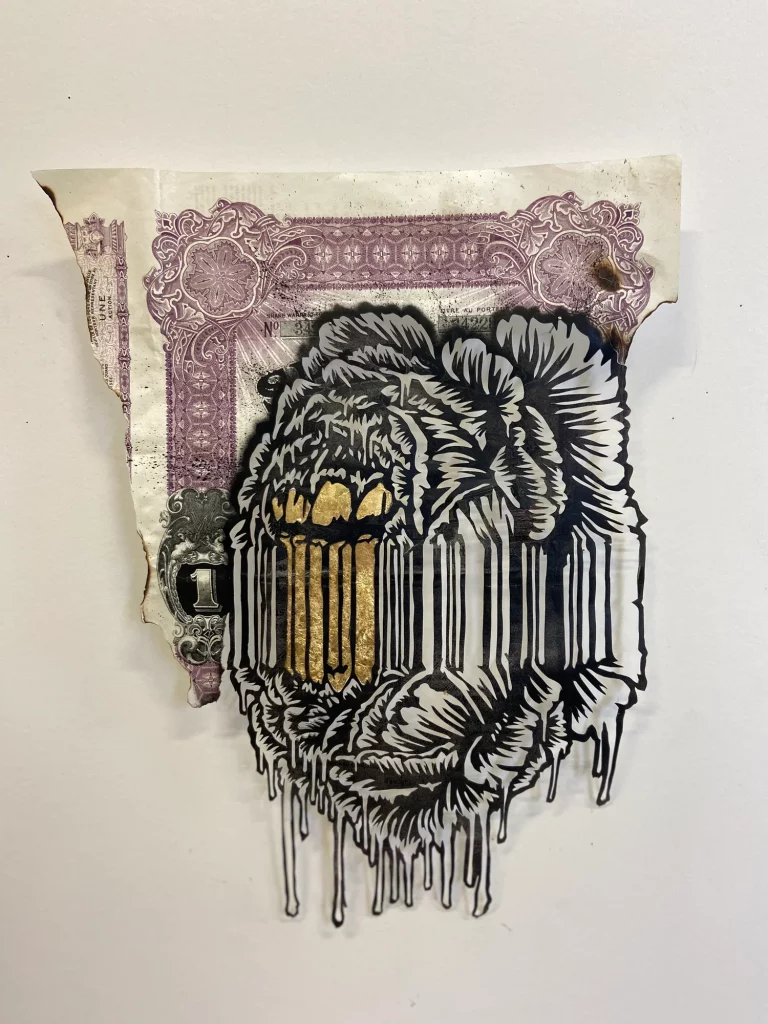 His delicate and perfected cutting technique has made him the French representative of paper-cut art. His first solo exhibition took place at the Cabinet d'Amateur in Paris in 2013. The same year, he was invited by the MUR association to create a temporary 3x8m paper-cut artwork on a wall in the 11th arrondissement of Paris. In 2014, he collaborated with the American artist Swoon, with whom he shares an artistic and technical affinity, for a collaborative work. In 2015, he participated in the "Paper Cut" exhibition in Los Angeles, featuring the six most talented artists in this field. He works with several galleries in France, Switzerland, and the United States. He has participated in the Paris Art Fair twice with the Speerstra Gallery. In 2022, he took part in the "Hey! Le Dessin" exhibition at the Halle Saint Pierre Museum in Paris.