Louis Saugy was born in Gérignoz, a village near Château-d'Œx. His father, Jules was a farmer and his mother a teacher. As a child, Louis would watch as his mother created drawings and his father cut out silhouettes. This artistic apprenticeship would have a strong influence on his subsequent life as an artist. He initially trained as a carpenter with his uncle Alois. At the age of 32, he took up the position of postman in Rougemont.
He was good-natured and enjoyed a joke. When doing his rounds, he would often admire the Hauswirth cuttings that adorned the walls of the chalets he delivered letters to. This also had an influence on his own favourite hobby: paper cutting.
While he started cutting at a very young age, he only gained the confidence to sell his works at the age of 40. He enjoyed immediate success and was invited to exhibit in Geneva. His fame grew well beyond the borders of the Pays-d'Enhaut. We know that a large number of celebrities visited his home.
He gave up his job as a postman at the age of 57 due to poor health and then dedicated himself to the manufacture and marketing of gentian liqueur, and paper cutting, two very different occupations.
While some paper cutters made a point of cutting monochrome images from a single sheet of paper folded in two, without the need for glue, others were not afraid to assemble a number of previously cut sections to create more complex works. Pictures with more than one colour obviously require the second technique to be used, Louis Saugy would also use it in creating his monochrome works.
His cuttings would often depict the ascent to the alpine pastures, embellished with bouquets and hearts. He would also personalize his works for the people for whom they were created. In this vein he depicted a game warden beating a poacher, a car (1925) and various craftsmen practising their trades.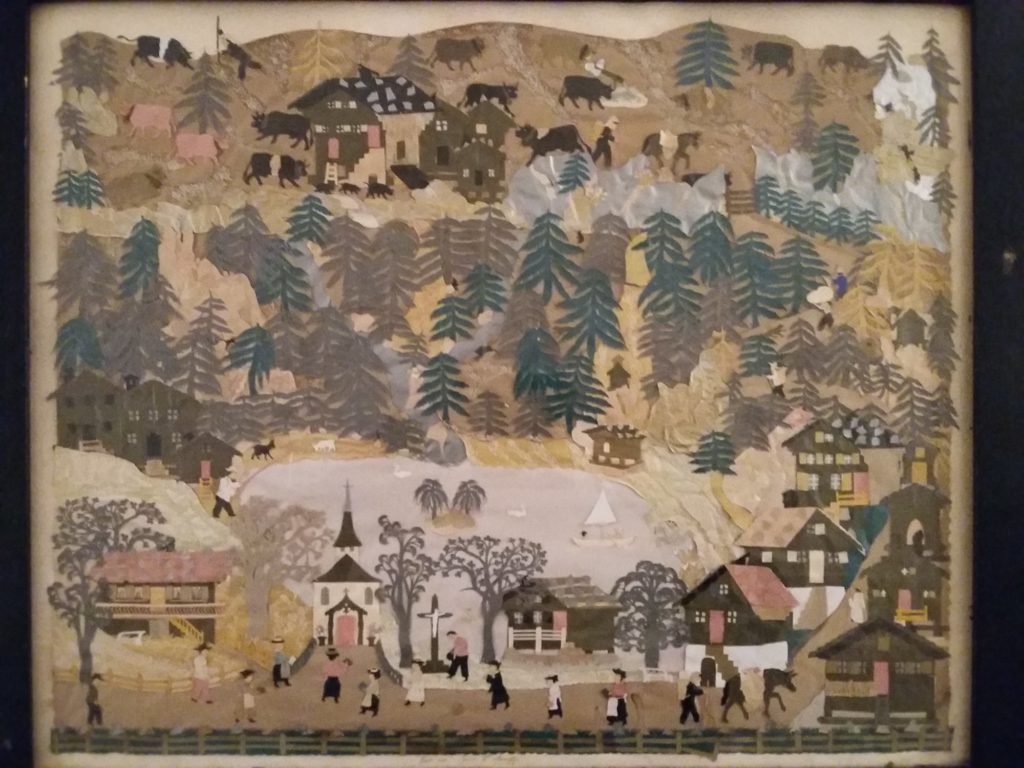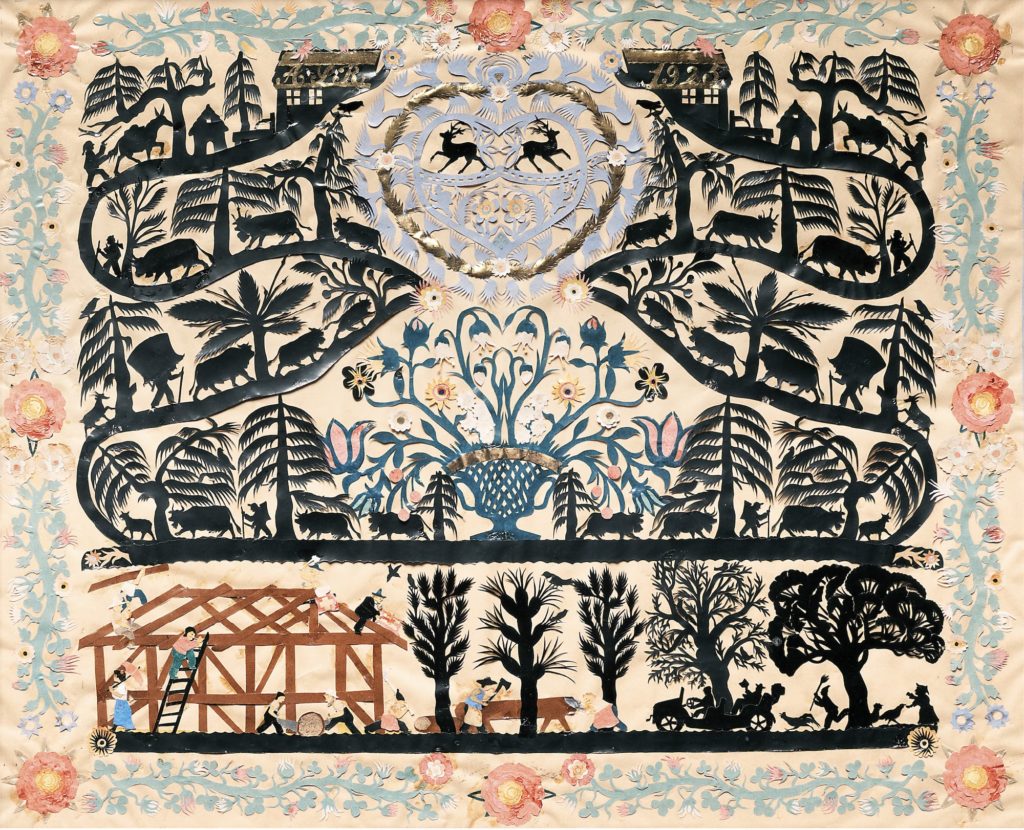 The artist would work sprawled on his sofa. He would have a table in front of him on which was placed a thin green board. Using small sharp scissors, he would then cut out the silhouettes. Once the general theme had been decided on, he would arrange previously prepared pieces, balancing the whole using a pair of callipers. He would handle them using tweezers and apply them using a hat needle and a drop of glue. The artist was filmed at work on Christmas Eve 1950, the footage was later included in a documentary titled "La Nature au Bout des Ciseaux".
Despite the fact that particular attention was paid to the choice of glue, it has degraded over time to leave brownish marks on the cuttings, these have now become a signature of the works of Louis Saugy. Louis Saugy died in early 1953, shortly after the centre of Rougemont was ravaged by fire. He left behind him an unprecedented testimony to the development of his region.